Search Constraints
1 - 2 of 2
Number of results to display per page
Search Results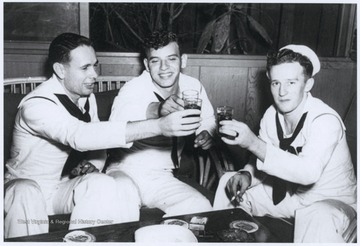 IDNO:

052260

Title:

U.S.S. West Virginia Sailors Hoist Their Glasses at Monkey Bar, Pearl Harbor, HI

Date:

1941/12/06

Description:

L to R: Jack Miller, Frank Kosa, Clifford Olds.Olds and 2 other crew members , Ronald Endicott and Louis Costin were trapped in a sealed compartment in the West Virginia's bow after it sank on December 7th. Any rescue attempt meant certain death. The 3 stayed alive until December 24th according to a marked calendar found with their bodies which were recovered after the ship was raised from the harbor bottom in May, 1942.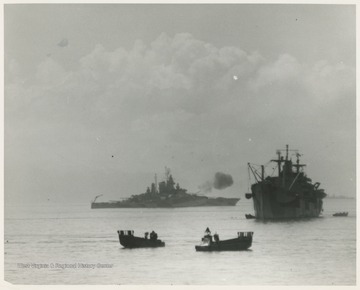 IDNO:

052334

Title:

United States Fleet off Leyte, Philippines

Date:

1944/10

Description:

"The guns of U.S.S. West Virginia (BB-48) in operation. L.C.M.'s in foreground." L.C.M. stands for Landing Craft Mechanized.